STARS OF 2005............Here we will list some of the dogs we have the pleasure to be handling through their specials career or championships. We can not thank their owners enough for the opportunity! For pictures of past kidos shown, please visit our webshots albums,

CLICK HERE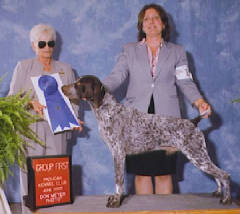 Group 1, Judge Betty Krause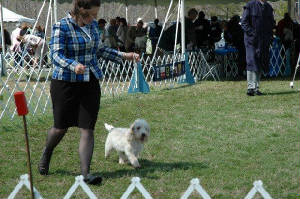 Kissie's First Point In Newnan, GA;-)
"KISSIE", POLYGOR'S PLUM PRETTY (Petit Basset Griffon Vendeen To The Left) (Ch Polygor's Des Rocs Du Plessis X Ch Polygor's Anouk De Mire Poix). Kissie is VERY cute and VERY happy;-) As you can see she is a nice mover too! Kissie has earned a few reserves and this picture was taken by her mom the day she won her first point in Newnan, GA! She now has 5 points with a specialty win;-).
Co-Owned & Bred By: Barbara Oxholm & Gary Oxholm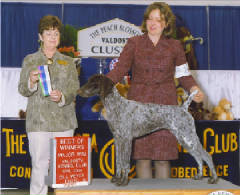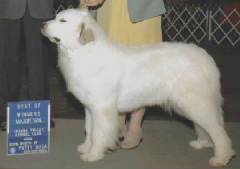 "LOLA" NEW CH! KENNEVIEW'S VEGAS SHOWGIRL (Pyr to the Left) (Ch Kenneview's Tuff Teddy-Ch Kenneview's Calamity Jane) . Lola finished in Orlando, FL with her 2nd major!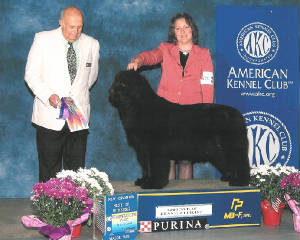 Ivy New Champion - 4 pt major! Judge: Ronald Lambert
"IVY" NEW CH! TALLOAKS SPICE OF TIPPECANOE (Newfoundland to the Right) (Ch Fleur Di Lis To Be Bazaar - Firewaters Bobbi Ann Mason) . Ivy is a very pretty girl that finished her championship in fine fashion by going BOW and earning a 4 pt major the first day in Greenville!!

Owned By:

John & Ruth Tennant & Marsha Aldrich &

Dionne Reep

Breeders: Marsha & Evan Aldrich, Tippecanoe Newfoundlands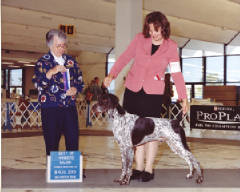 "JOE" NEW CH! Stones River Yankee Clipper SH NRD (GSP to the Left) (DC AFC Stones River Destroyer MH-Crossing Creek Verity CD JH) Joe earned his last 2 majors with ease in just 5 shows!! Owners/Breeders:
Stones River GSPs, Linda & Gary Sadler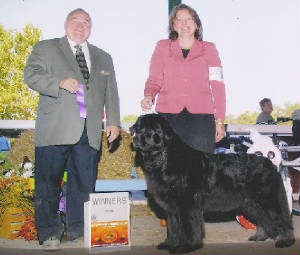 "ANDIE" NEW CH! MOLLYBROOK OF KILYKA'S SAVVY-GIRL CD (Newfoundland to the Right) (Ch Mollybrooks 'Isiah' CDX - CH Kilyka's Mary Elizabeth CD) . This girl is just CUTE and once we got on a roll....she was hard to stop! The day after she finished her Championship....she went Best of Breed! Owned By: Mary Ann Barnhill & Gayle Littlefield; Bred By: Karen Dunaway & Betty McDonnell & Ken Dunaway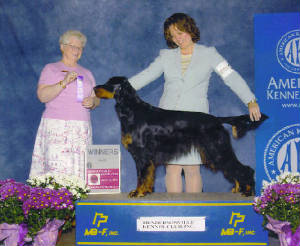 4pt Major, Greenville, SC - Judge: Nancy Cowley
"ROADIE" Blackhurst Heck On Wheels JH (Gordon to the Left) (Ch Tandera's Ticket To Ride X Blackhurst Denin 'N' Lace, CD, JH) *MAJOR POINTED* Owners/Breeders:
Blackhurst
Gordon Setters, Carol Black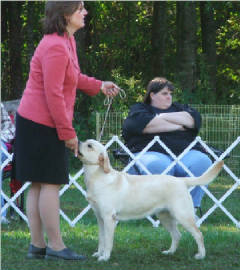 "POPPY" Carenna's Poppy (Labrador Retriever to the Right) (Ch Saddlehill Struttin inthe Moonlight X CH Carenna's Myrtle) Poppy is just entering the show ring and is having a blast:) Owners:
Julia Kuni
and Carol Quaif, Breeder:
Carenna Labs
, Carol Quaif