SharpMtn Newfoundland
Conner's Mom in Obedience at the National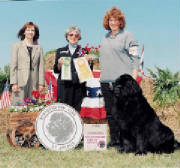 "Madison" CH Kilyka's Polaris Madison UD WD
Newfies are a water rescue dog. Reason for the water repellent coats and web feet. They have wonderful personalities and are great with children. They do drool (slime!) and their coats are oilier than most breeds.
Lara grew up with two newfs through her childhood. "Nanny" was a ex-show dog, since her bite went off. Although she had plenty of time in the show ring with Lara in the back yard! "Nemo" came several years after Nanny. Despite his heart issues, he lived a long & happy life to a very old age of 12!
To learn more about Newfoundlands, please visit these sites: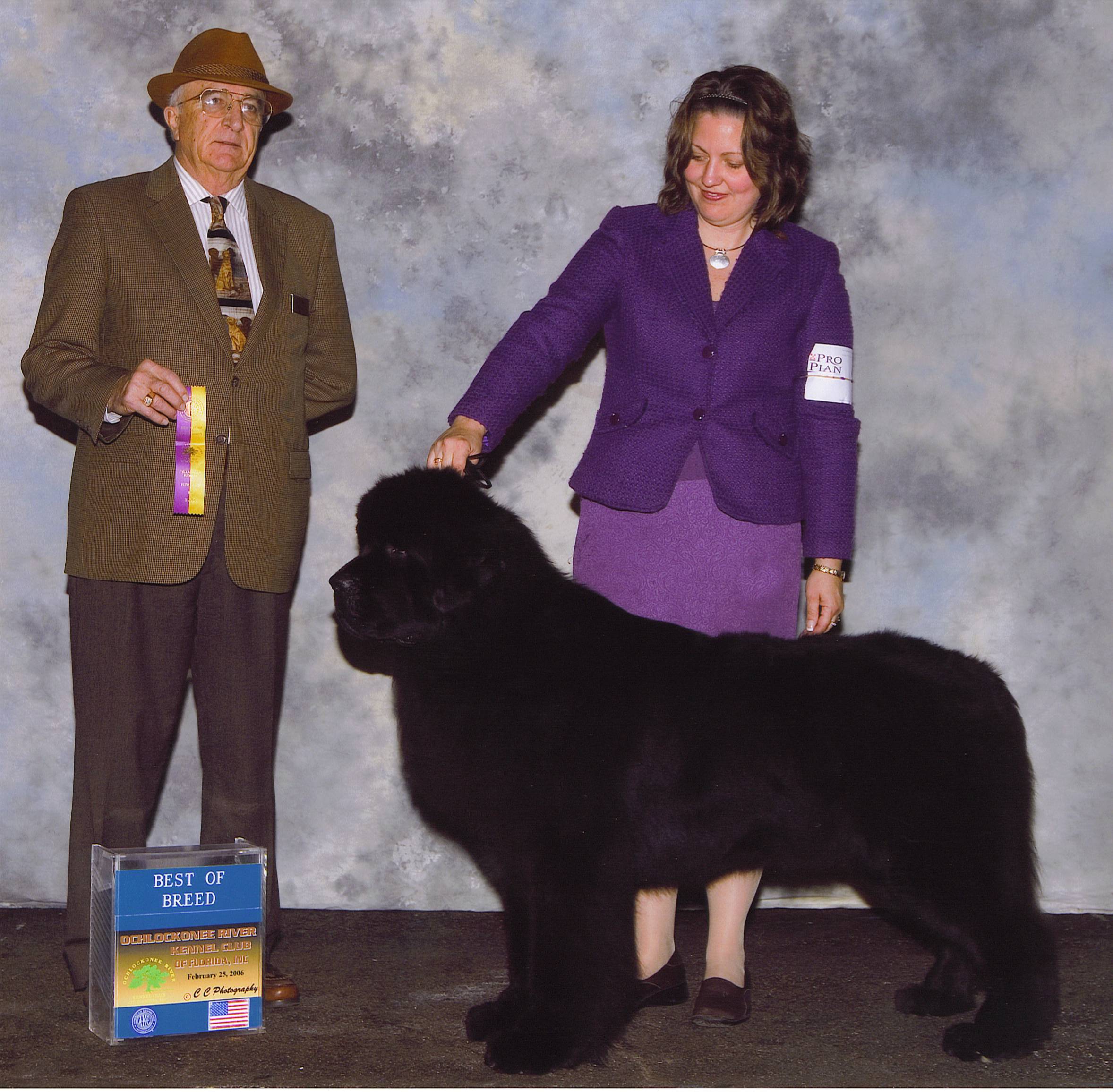 Conner Winning Best of Breed 2-06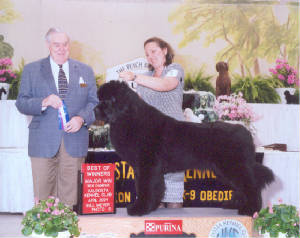 17 months - New Champion! 4-04
"CONNER"
CH Kilyka's Just Add Water
OFA Cardiac Normal (NF-CA1433/14M/C-PIC), CERF Clear (04 & 05, NF-779), Cystinuria clear (HealthGene # 27338), OFA Patella (NF-PA433/24M/P-PI), OFA Hips (NF-8539F24M-PI), OFA Elbows (NF-EL2455M24-PI ), AKC DNA (V403938)
DOB 11/14/02
Well, since Conner is the only newf in the household...he gets his own page! He is a really neat dog, reminding me why I love this breed so much. He loves to talk, show and play! He is a multiple Best of Breed winner, Specailty Best in Sweepstakes and his first major was at a supported entry;-) Conner finished his Championship at the tough Perry, GA shows 4/8/04 going Best of Winners for his second major finishing out of the 12-18 month classes with very very limited showing.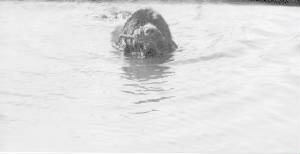 Conner bringing a stick to his mom;-)
---
Pedigree for CH Kilyka's Just Add Water "Conner"
CHIC# 52054
OFA Cardiac (NF-CA1433/14M/C-PIC)
CERF (04 & 05, NF-779)
Cystinuria Normal (HealthGene # 27338)
OFA Patella (NF-PA433/24M/P-PI)
OFA Hips (NF-8539F24M-PI)
OFA Elbows (NF-EL2455M24-PI )
AKC DNA (V4039
Conner's Breeding:
Sire
BISS, Select CH Pouch Cove's Dark Horse ROM(Black)

OFA Hips Fair, OFA Elbows Normal, Cardiac Normal, Cystinuria Normal

Sire
Select CH Pouch Cove's Candidate ROM
Sire
Intl CH Twillin Gate Quintex (Belgium)

Sire
NSS BIS BISS CH Pouch Cove's Favorite Son, ROM

Top Producing Sire in the History of the breed

Dam
INT/DK/NL/B/NL/A CH Joringel Christmas Carol (Denmark)

Dam
CH Pouch Cove's Shiprock Sidney, ROM

Sire
Select CH Jubilee You're The Top, ROM

93 NSS Winner's Dog

Dam
Shiprock's Irrestable Force, ROM
Dam
Am/Can CH Pouch Cove's Northern Spirit
Sire
CH Pouch Cove's Matter of Fact
Sire
CH Blackstone's Percyful James, ROM
Dam
Twillin Gate Queenberry
Dam
CH Pouch Cove's Antares Arbitrage, ROM

Sire
Select CH Jubilee You're The Top, ROM

93 NSS Winner's Dog

Dam
Ch Pouch Cove's Antares Fanfare, ROM

Dam
CH Kilyka's Polaris Madison UD WD NAP RN, ROM (Black)

OFA Hips Good, OFA Elbows Normal, CERF Normal, Cardiac Normal, Cynstinuria Clear (via parents)

Sire
CH Darbydale's Keep'm Guess'n
Sire
BIS BISS Am/Int/Ita CH Seabrook's Headmaster Tabu, ROM
Sire
BIS BISS CH The Bombardier ROM
Dam
CH Tabu Seabrook Nobelle Prize DD, ROM
Dam
CH Pouch Cove's Objection Overruled, ROM
Sire
CH Kilyka's Benediction CDX WD
Dam
Pouch Cove's Rendition, ROM
Dam
CH Kilyka's Making Waves of Haytee

Sire
NSS BIS BISS CH Pouch Cove's Favorite Son, ROM

Top Producing Sire in the History of the breed

Sire
CH Schooner Yosef Of Newton-Ark
Dam
CH Souvenier of Pouch Cove
Dam
CH Blackstone Blessing of Kilyka UD
Sire
VN CH Kilyka's Amen Amen CD WRD DD, ROM
Dam
Blackstone's Brooklyn
This pedigree page was built for free at SitStay.com