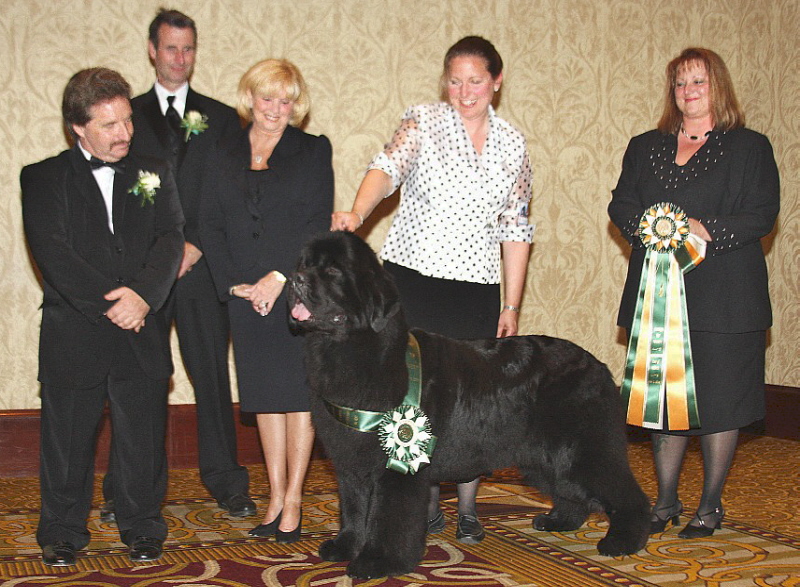 Top 20 Winner ~ Judge's Choice
















FLASH FLASH FLASH!!!!!
DOBY WINS THE JUDGE'S CHOICE AT THE NCA TOP 20 COMPETITION!!!!!!

~ MULTIPLE GROUP WINNER!!! MUTIPLE GROUP PLACER!~

"DOBY" CH Voldemort At Chekrd Des Oursons Du Vent (Newf to the right) (Int Multi BIS Skipper's Emperior King of Helluland X French LUX CH Thickish Newfoundland KeyOfMy Heart)

#2 Breed / #4 All-Breed Through 11/30/08!

Breeder: Sadrine Laignel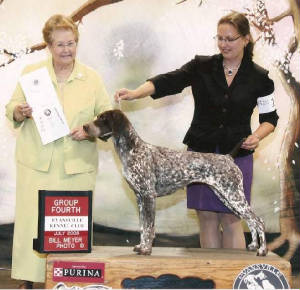 ~ AM & INTL GROUP WINNER!!! MUTIPLE GROUP PLACER!~
"
AVA
" AM/INTL CH Bulkley SharpMtn's Blu Skyes MH VC (GSP to the Left) (BIS/BISS CH Wyndbourne The Chances Are X BIS/BISS CH Cheza's Stelor In Disguise) Ava is our baby girl and I am really looking forward to specialing her in 2008! With extremly limited showing last year (3 weekends!)...she is a multiple best of breed winner, GROUP WINNER and a National Specialty Award of Merit Winner! Most of her 'off' time from the ring was due to her time in the field with her dad! We look forward to presenting
our
special one to the judges! Owner: SharpMtn - Lara & Jimmy Spears Breeder: Bulkley GSPS - Greg Hostetter
#13 Breed / #12 All Breed of 11/30/08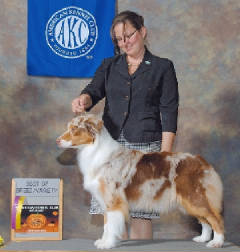 "STAR" AKC/ASCA CH Shoreland's Scarlett Ribbon (Aussie to the right) (CH Rising Stars Right X CH Shoreland's Once Upon A Time) Watch for this cute girl in the specials ring:) Star is a multiple Best of Breed winner in quality competition. Flash!

Star finishes her ASCA championship 1-20-08!

Owners:

Gatorhaven Aussies - Jarilyn Waits-Pusz

& Sue Mayborne, Breeder: L&S Bowdish & Sue Mayborne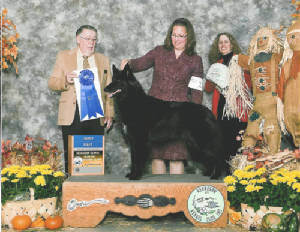 BEST IN SPECIALTY AND GROUP WINNER IN MARIETTA!!!"BETS" BISS CH Sans Brancos Uppin The Ante (Belgian Sheepdog to the left)

(Ch Sundown's A Time To Soar X CH Uniquest Van't Belgisch Schoon)

I have shown her to several group placements in top quality competition. She is as beautiful standing as she is moving. Breeders

:

Terri Ann Votava & Melinda Andric, Owner:

Sans Branco

- Terri Ann Votava

#9 All-Breed/#14 Breed as of 10/31/08!
"TYLER" NEW CH! NEW INTL CH! Broad Reach That's My Boy Tyler (Lab to the Right) (CH Willcare's Prestige X CH Broad Reach Trisket) The Tyler Man has finished his Championship! Including BOTH MAJORS in the same month and a Best of Breed win! He is now a Multiple Best of Breed winner and made the final cut at the 2008 national! At the International show he won all 4 breeds and a group 3! Owner: Jean McLain, Breeder: Martha Lee K Voshell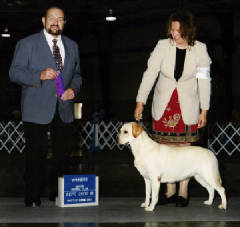 "POPPY" Carenna's Poppy (Labrador Retriever to the Left) (Ch Saddlehill Struttin inthe Moonlight X CH Carenna's Myrtle) Poppy has 2 points towards her championship. Poppy took a break for motherhood and is now re-entering the rings:). Owners:
Julia Kuni
and Carol Quaif, Breeder:
Carenna Labs
, Carol Quaif








"BROOKE" NEW CH! Bearbrook's The Dance (Newfoundland to the Right) (Newf Mermaid Bearbrook X Bearbrook's Show Time) Brooke traveled all the way from Texas. She is a happy and sweet girl:) I enjoyed showing her to her last major. Owner: Janice Swenson , Breeder: Hilda & John Ginter


"TORI" CH Bullwolf's Torino Gold (French Bulldog to the left) (CH Briarpatches Sam I Am X CH Bullwolf's Charming Winka) I had a blast showing Tori to some points and as a special a few times:) Including this Best of Opposite sex at a supported entry. She is cute and she can move!:) Owner/Breeder: Sherry Ross -

Bullwolf French Bulldogs









"RASCAL" NEW CH! Teacup's Wascally Wabbit (Cavalier King Charles to the right) (CH St Jon Day Tripper X Crumpet's Tempest In A Teacup) This Tripper son finished pretty fast for the Cavalier world:) Now to see if he grows up to be a special like his dad:) Owner/Breeder: Kris Montalvo - Teacup Cavalier King Charles Spaniels




"STRYDER" Gatorheaven's Free Fallin' (Aussie to the left) (CH Legends Starn Runnin Down A Dream X PennYCaeraus Miss Scarlet O'Hara) Stryder is a silly silly boy full of personality and is a great mover like his father. He has a few reserves and a Puppy Group 1 to date. Flash 7/13/08 ! Stryder wins Winners Dog for his first ASCA major! Watch for this young man as he grows up!

FLASH! 10/26/08 - Stryder wins Winners Dog in Marietta!!!








"PATRICK" NEW CH! Lamb Creek's Patrick Pearse (Belgian Sheepdog to right) (Phantom's Outline N Black X CH Sans Brancos Southern Comfort) I showed Patrick to his last 5 points, including a major. He is gorgeous standing and is a silly boy in personality:) Owner/Breeders: Lamb Creek - Chris & Nannette Curran, Co-Breeder: Sans Brancos - Terri Ann Votava









"RAVIN" Ammo's Some Like It Hot (Brittany to the Left) (CH Millette's Let the Games Begin X DC Ammo's Gone With the Wind JH) Ravin is a beauty and is already major pointed. Shown here winning Best of Opposite Sex in sweepstakes at the Perry specialty over quality competition. Breeder/Owner: Ammo's Brittanys - Sandra & Gary Leavens

"CLAY" NEW CH! Trinity's Georgia Red Clay JH (Vizlsa to the Right) (NAFCDCAFC Wildwood's Back With Zack MH-DC AFC Barben's Martini With A Twist JH) Clay man came a long way fast! He quickly became a very confident dog that easily won 3 majors in two weekends to finish!




Owners:

Joseph & Rebecca White

, Breeder:

Trinity

- Trish & Wayne James

"BOOGIE" NEW CH! Fieldmaster's Nothing But Trouble (GSP to the Left) (CH Virginia's Upland Gentleman -Grounds For Divorce) Boogie is a nice young dog that I had the pleasure to put his last major on. He is now pursing his Dual Championship:)




Owners:

Rex & Becky Messner

, Breeder:

Fieldmaster's Shorthairs

.

.

.

.

"JAYMAN" Morning's First Son Rising (Newf to the Right)

(Ch Council Cup's Dante's Alibi - Kilyka's Morning Legacy) JayMan is a nice young dog with great movement. He won Best of Winners at his first all-breed show! Owner:

Martin Gabel

, Breeder:

Sandy Gabel

.

.

.

"BLUE" Wannapoint's Little Boy Blue (GSP To The Left) (CH White River's Ziggy Stardust JH - CH Foxglove's Mad About You JH RN CGC NRD TT) Blue is a sweet & happy boy! He is pictured here winning his first point! Owner/Breeders:

Wannapoint GSP - Michael & Lisa Stovall

.

.

"BEAR" CH Bear Hug Cee Barry Rockbridge JH (Wirehaired Pointing Griffon to the Right) (Ch Wet Acres Moonshine JH - Ch Wet Acres Happy Camper JH) I had the pleasure to show this Texas boy to a Best of Breed at the Greenville, SC shows. Owners:

Kay Boehner - TX

, Breeder: Lonnie R Carroll Jr

"MISTY" Ammo's Misty Morning Breeze (Brittany to the Left) (CH Millette's Let the Games Begin X DC Ammo's Gone With the Wind JH) Misty is a littermate to Ravin (see above). Misty has done well for being so young:) She has Specialty Best In Sweepstakes and a major so far! Watch for this girl in the rings and fields:) Ownesr: Jim & Patty McCarthy Breeder/Co-Owner: Ammo's Brittanys - Sandra & Gary Leavens

.

.

.

"JILL" Kilyka's Jillion Steps to Turf Tide (Newfoundland to the left) (Ch Council Cup Where For Art Thou-Ch Kilyka's Absolute Tempest) This pretty girl won a 5 point major at the Lexington, KY shows in TOUGH competition:) Owner: Ginny Lengel Breeder: Betty McDonnell

.

.

"PARKER" Martimo's Parker Peabody (Portuguese Water Dog to the Left) (CH Valkyrie Dr Watson Is Here x CH Bayswater's One N Only Olivia) Parker won all 4 days at the Marietta, GA shows!!:) Owner: Nancy Vencill and Mark & Jill Roudebush, Breeder: Mark & Jill Roudebush

.




"BIRDIE" Shomberg's Chip Shot For One Under On The Ninth (German Shorthaired Pointer to the Right) (CH Alajazz West Palm Beach Point JH x CH Shomberg's Pawnee Love Song JH) Birdie has 6 points in limited showing:) Owner: Jocelyn Greene & Lesly Dosset, Breeder: John & Beverly Hoover and Sharon Dattilio

"MAC" Lochbuie Carena Nothing But A Party (Lab To the Left) (CH Sunspot's Nothing But Net X Carenna's Poppy) Mac is Poppy's son (see above) and he is starting to learn the show ropes. He has nice placements on specialty weekends, some even mom handled:) Owner: Julia Kuni, Breeder: Julia Kuni & Carol Quaif

.

.

.

.

"DELILAH" Bee Creek's Mtn-To-Sea Hey There Delilah (Newf To the Right) (CH Breakwater's Ye Olde Towne Crier X CH Mtn-To-Sea's To HeckandBack) Delilah is a pretty moving girl and a sweet newfy temperament to match:) Her first points were a 4pt major the day after a regional specialty:) Owner: Dionne & Becker Reep, Breeder: Ginny Graham

.

.

.

"MIRRA" Kiokee's Mirra Image of Morrigan (Mastiff to the Right) (Ch Morrigan's Cu Mac Shimidh-Kiokee Get 'er Done) Breeders: Jennifer McKemie & Leila J Airhart & Cathy Arney Owners: Sandra McCurry & Jennifer McKemie

.

.

"ABBEY"

NEW CH!

R-Desire Under The Gun JH NAVHDA Pz 1I (GSP To The Right) (Ch Crystal's Up Close N Personal MH x CH NMK R-Desire's Desert Moon SH) Owners:

Crystal Kennels - Judy & Andy Zeigler