GROUP PLACING ~ GCH SharpMtn V Bulkley Whats In Your Wallet? JH
Photo by Wilcox Photo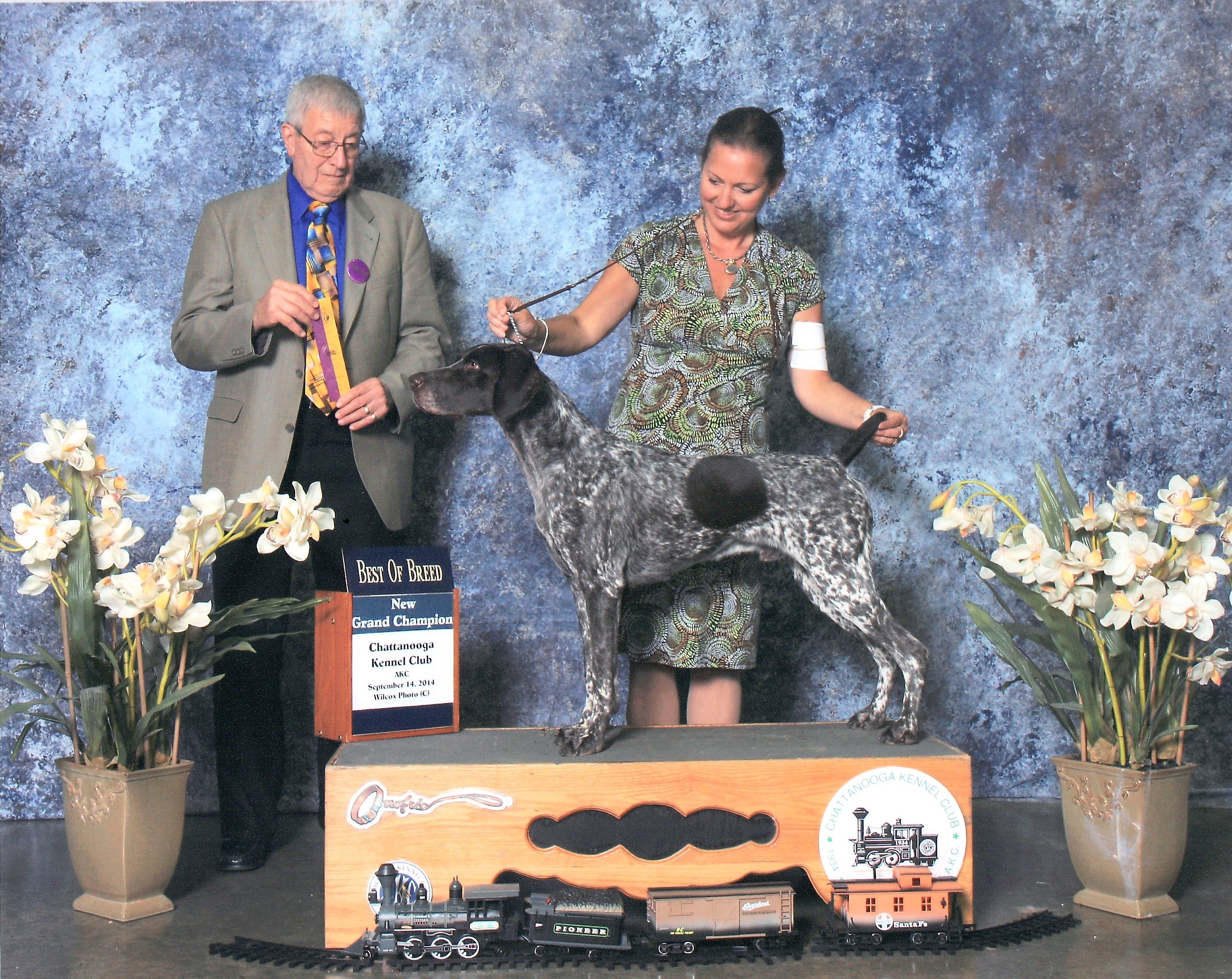 9-14-14 - New GCH! - 4 yrs old
Picture by CC Photography - 3 yrs old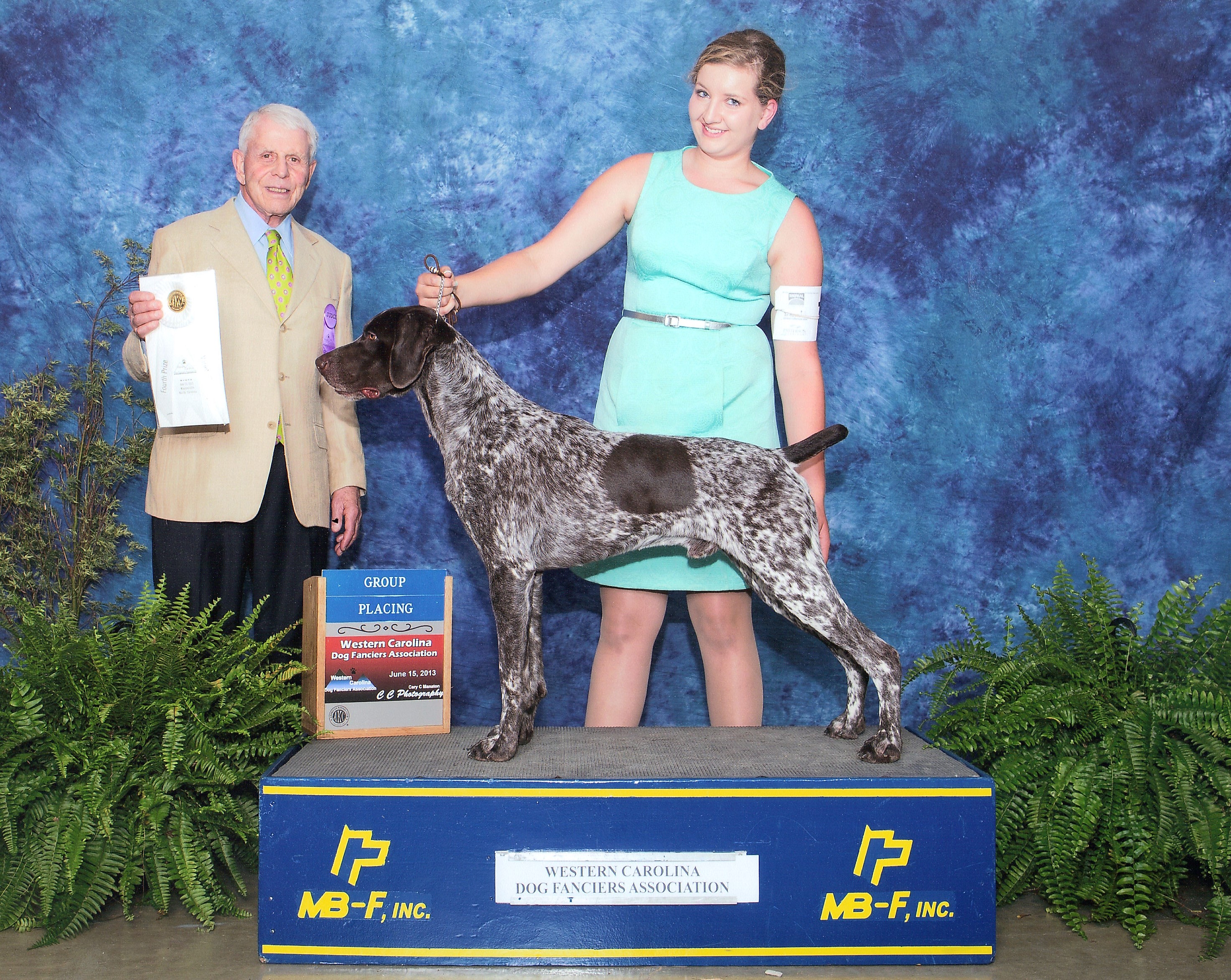 Grp 4 - 6/15/13 - Handled by Jaclyn Smith
DOB: 6/16/10
CH SharpMtn's Fuel For The Soul SH x GCH Bulkley SharpMtn's Blu Skyes MH
CHIC # 84771
Cardiac Clear 10-11 GSP-CA1475/16M/C-VPI
CERF Normal GSP-372827 6/9/12

OFA Hips EXCELLENT GSP-15506E26M-VPI
OFA Elbows nORMAL GSP-EL1704M26-VPI
CD Normal 12-7347
Brucellosis Negative 9/6/16
A nice MODERATE dog with plenty of bone at 24 1/2" Tall, 65 lbs
BREEDINGS
EVAN
x
"Hailey" CH Shomberg's Bayville Pak'n Heat MH (natural)
Whelped 12/18/13: 3 girls, 3 boys
EVAN x "Selena" GCH LegacyK KissNtell At DreamNWng CA (natural)
SHOW
** Evan FINISHED HIS CHAMPIONSHIP 11/20/11! Finishing out of Bred-By with very limited showing
** Evan goes Back to Back Best of Breed! 6/12 2pts/2 specials defeats toward his GCH!:)
**Evan goes Back to Back Best of Breed AGAIN! 9/15-9/16/12 - All GCH specials defeat complete & 2 MAJORS!
BACK IN THE RING AGAIN! 6/13 - Waynesville, NC Back to Back Best of Breeds...and a Group 4!
*HUGE BREAK FROM THE RING.....Evan goes Breed 6/14 in Waynesville, NC!! 3pt GCH major...3 more singles to go:)
With VERY Random & Select showings...he now only needs 3 singles to finish his GCH!
AND WE ARE DONE!!! NEXT TRIP TO THE SHOW RING 9/14 - Evan goes back to back BOB to finish his GCH!!
FIELD
** Evan is a New Junior Hunter! 3/24/12 ~ Qualifying each time he is entered:)
(slow going at 1 a weekend with Jimmy judging;) - last 2 legs had almost straight 10s!!!
AUGUST 2015 - Evan got the opportunity to return to the field for some bird work & training with Sara King of RoyaleRun Kennels! He still LOVES his birds!
He is now enjoying personal hunting with his co-owner in Alabama:) Lucky boy!
Sire
CH SharpMtn's Fuel For The Soul SH "Solo"

Multiple Field Trial Placements

Best of Breed Winner

CHIC# 33232: OFA Hips Good, Elbow Normal, Cardiac, CERF, CD Normal, VWD Normal

Sire
DC Int CH Windabrae's Smoking Colt CD MH

OFA Hips Good, Elbow Normal, CERF Normal, Thyroid Normal

Sire
DC Kurzhaar's Ruger V Haven SH

OFA Fair, CERF Normal

Sire
DC Hillhaven's Hustler

OFA Normal

Dam
Freigest Bekannte V Laden CD JH

OFA Excellent, CERF Normal

Dam
CH Windabrae's OJ V Farook JH

OFA Good, Elbow Normal

Sire
CH Pawmarc's Cocoa Von Shepard SH

OFA Good

Dam
CH NMK Krystle V Sibelstein

OFA Excellent

Dam
Am Intl CH Lieblinghaus Hail To The Chief JH RN CGC ~ GSPCA VC

OFA Hips Good, CERF Normal, Cardiac Normal, CD Clear, Thyroid Normal

Sire
NSC CH Lieblinghaus Chief Executive CD JH HOF

OFA Good, CERF Normal

Sire
BIS/NSC CH Pawmarc's Sierra Mtn Song

OFA Excellent

Dam
NSC CH Lieblinghaus Here's To Freedom JH

OFA Fair, CERF Normal

Dam
Fieldfines High Spirits JH

OFA Excellent

Sire
CH Fieldfines High Voltage JH

Dam
CH Charlen's Caitlin JH

OFA Good

Dam
Silver AM GCH / INTL CHBulkley SharpMtn's Blu Skyes MH "Ava"

2 Field Trial Points/ Multiple Field Trial Placements

Multiple Group Winner

National Award of Merit Winner

CHIC # 40509: OFA Hips Excellent, Elbow Normal, Cardiac, CERF, CD Normal (By parentage)

Sire
BIS/BISS Am Can Ch Wyndbourne The Chances Are

OFA Good, CERF, CD Normal, Cardiac Normal

Sire
CH Wyndbourne's Celebration CDX NA CGC

OFA Good

Sire
KS/Int/Am CH Zobel Vom Pregelufer

OFA Good

Dam
BIS/BISS CH Wyndbourne's Outrageous HOF

OFA Excellent

Dam
BIS/BISS NSC CH Wyndbourne's Keepsake CD HOF

OFA Good, CERf

Sire
CH Wyndbourne's Bustin Loose

OFA Good

Dam
CH Wyndbourne's Remembrance

OFA Good

Dam
BIS/BISS CH Cheza's Stelor In Disguise

OFA Hips Excellent, Elbow, Cardiac, CERF, CD Normal

Sire
NSC CH Lieblinghaus Chief Executive CD JH HOF

OFA Good, CERF

Sire
BIS/NSC CH Pawmarc's Sierra Mtn Song

OFA Excellent

Dam
NSC CH Lieblinghaus Here's To Freedom JH HOF

OFA Fair, CERF

Dam
CH Cheza's Mezza Luna JH

OFA Good

Sire
DC/AFC Up N'Adam UD SH

OFA Good, CERF

Dam
CH Cheza's Crystal Moon

OFA Excellent